A McLennan County judge will not dismiss the 2003 handwritten will of Texas music legend Billy Joe Shaver, which purportedly leaves his estate to his nephew. The nephew of another country music legend, Willie Nelson, originally made the request to throw out the will.
Tommy Witherspoon of KWTX reports the following:
The ruling by County Court-at-Law Judge Vik Deivanayagam rejecting a summary judgment motion from Fred Fletcher has attorneys on both sides predicting that the dispute over Shaver's estate between Fletcher and Shaver's nephew, Terry Dwayne Rogers, will be resolved by a McLennan County jury.
The judge's ruling only affected Fletcher's motion to dismiss the will Rogers is seeking to enter into probate proceedings. Deivanayagam is expected to set a hearing on a similar motion from Rogers that seeks to declare invalid the handwritten will that Fletcher contends Shaver wrote out in 2008 in front of witnesses in Austin that left him Shaver's estate to Fletcher.
Deivanayagam also appointed Robert Stem, a retired state district judge from Marlin, as temporary administrator over the estate until the will dispute is resolved.
Billy Joe Shaver was a founding member of the Outlaw country music movement in the '70s and was a well-known songwriter. "I'm Just an Old Chunk of Coal, "Live Forever," "Georgia on a Fast Train," and "Wacko from Waco" are just a few of his hits. The estate of country music legend Billy Joe Shaver is currently being contested in court. The value of the estate is not clear, but it includes ongoing royalty payments from Shaver's many songs.
Shaver's will from 2000 named his sister, Patricia, as executrix and left everything to her. His will from 2003 left his estate to Rogers, his sister's son. Willie Nelson's nephew filed a 2008 handwritten document in which Shaver purports to name him as his sole beneficiary.
Witherspoon continues:
Deivanayagam's ruling comes after a May 20 hearing at which attorneys on both sides argued that their respective wills should be entered into probate.
Fletcher, a music producer and a former drummer in Shaver's band, founded Arlyn Studios in Austin in 1984. He and his uncle, Willie Nelson, co-founded Pedernales Records in 1999.
The 2008 will, which was witnessed by five others, leaves Fletcher with Shaver's home in South Waco, which was valued at $122,030 on county tax rolls at the time of his death, along with his songs, automobile, bank accounts and "anything of value."
"I want him to continue to administer all my music business and to keep all profits," a copy of the handwritten will says.
Here is a scanned copy of the handwritten 2008 will purportedly written by Billy Joe Shaver: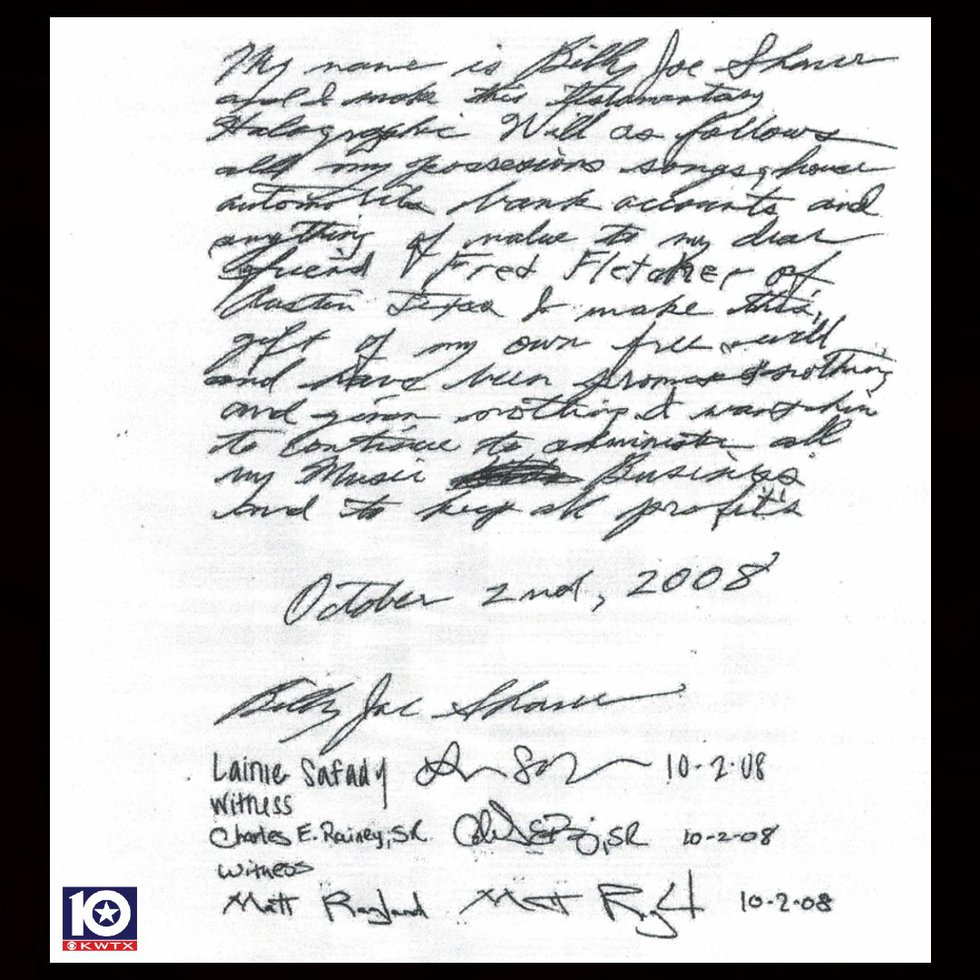 Immediate Download
FREE Access to Our Texas Probate Guide
Don't miss out, get a copy today!